"~ Two of my favorite things are knitting and reading (though not at the same time!), and the evidence of this often shows up in my photographs. I love seeing what other people are knitting and reading as well. So, what are you knitting or crocheting right now? What are you reading? Take a photo and share it either on your blog or on Flickr. Leave a link below to share your photo with the rest of us! ~"
Ginny at Small Things
Starting this yarn along post with no pictures...I'll try to slip some in after I get home!
My camera is at home, my phone is at home....and I am not...
In the knitting area, I'm slowly working on my Juliette vest. I am hoping to get this finished to wear this winter. I have been working on it for 2..3..4 years?? off and on the needles. I have ripped and redone and unknit and even this week, I was practicing my unknitting skills. I've finally come to switching over to the knit pattern for the bottom and it is a bit of a challenge. More of a challenge than you can handle talking and counting and knitting all at the same time. Especially while riding in the car, talking to friends, traveling to and from the Hemlock Lake Fiber Fest, where we got a hold of some really yummy yarn. This is where the unknitting comes into play. Getting close to the end of the row, I discovered my stitch count was really off,so I put it away in the car and just talked...then after I was home and settled in, I started at the other side and counted across until I found my mistake and undid my stitches, made it right, and re-knit to the end of that row, then put it down. Last night, in the living room alone with a 16yr old boy and his tv show, I was able to make it back across with no mistakes....as far as I know! And then put it down again. I was starting to get tired and didn't want to stop mid row or make big mistakes. The weather reports tell us to expect lots of cold and snow this winter. Hey, I live in western NY state. That's what's
supposed
to happen in winter here. But it will be nice to wear this vest over a turtleneck and have that yarn wrapped around me in a big hug.
So, to keep me going in the less thinking time, I grabbed some sock yarn this morning and a pattern I had printed off for some little yoga socks. It is self striping yarn. My confession here is that I have a small stash of sock yarn, but I like thick knitted socks. I have made 2 pair of socks in my lifetime. Both pair thick socks. One is mine and the other my mom wears...and I've darned for her. I thought she might be wearing them out of guilt, and also that they sure weren't wearing well. So I said, These aren't wearing very well if they have a hole already...she said...When it's cold, I wear them whenever they are clean. My mom doesn't have piles of unwashed, unfolded, un-put-away clothes. ( It didn't rub off on me yet.) Ok. Then handknit socks ARE worth the effort and buying handknit socks is probably worth whatever you are paying. It's funny how I used to look at beautiful handknit sweaters and think - My WORD! How Expensive! I'd never pay that. Now that I knit a bit more, and I buy some nicer yarns, I look at them in a whole different light. More often then not, I look at them and smile, thinking, that's a HECK of a bargain. Remember, I am on my 4 year vest project!! And there is a jealousy when I read the blogs of focused knitters who are stocking the drawers for winter with new socks, hats, scarves, sweaters for them, the hubby and six+ kids. You GO, girls!! I'll just putter a bit with my projects - the never-ending vest :o) and now some socks, and then some research for the new yarn that came home from Hemlock with me. Isn't knitting and yarn just great therapy??? I thought you'd say so. Hunkering down....
And the reading is really mixed up lately. I started Miss Peregrine's Home for Peculiar Children
and it is taking me forever, but I am determined to finish it. But I'm also starting a Bible Study -
Captivating,
my Sunday School book, The Family of Jesus by Karen Kingsbury,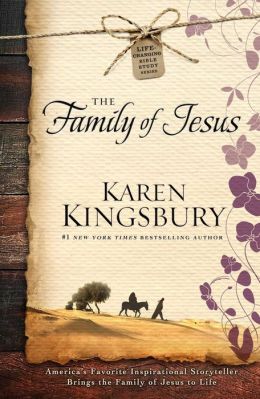 and my youth Bible Study with- Leah - and
Ten Things for Teen Girls.
I wonder why I am a bit scattered with books right now. I took a big stack of magazines with me camping and was able to finish a bunch of started ones, so that was good. One bite at a time.
So what are YOU doing?? Keeping on task or jumping around?? Several going to fight boredom or concentrating and crossing off those finished projects?? Hmmm.... Check out the others
here
...